IDEAS & INSPIRATION - Recent Wallpaper Map Orders

Dear Louise, this is the finished article, we are thrilled will the overall effect and our decorator was impressed by the quality of the paper. Thank you again, - Alan Rowley
---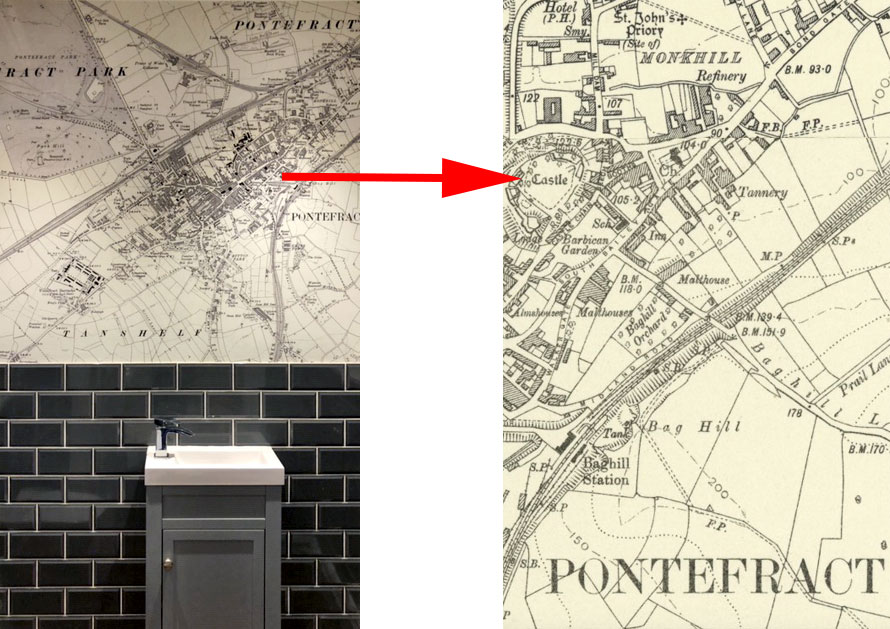 Just thought I would send you an image of our WC, I love it, and it is everything I thought it would be, my husband has finally seen my vision and thinks it looks amazing. Thank you for all your help. - Clare Edwards
---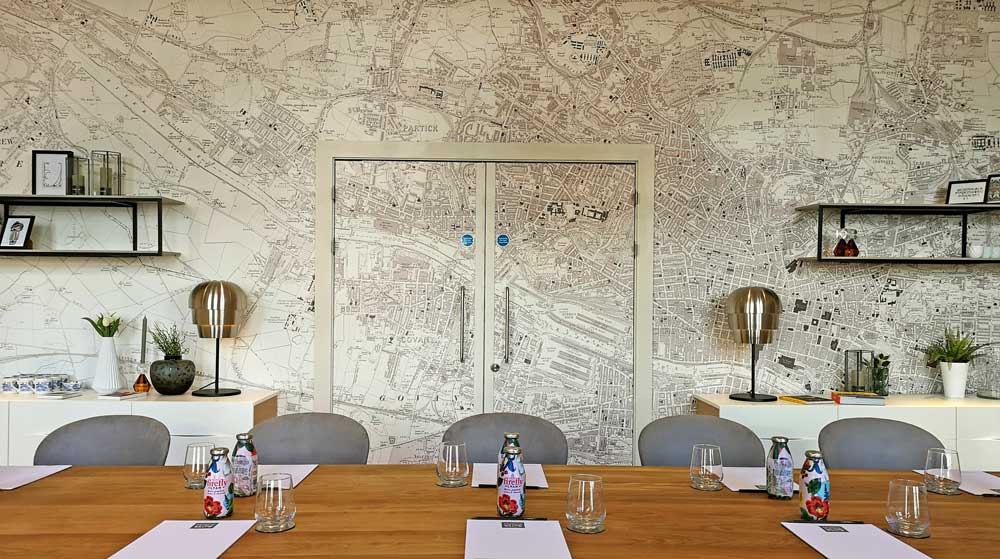 Magnificent historic wallpaper map of the centre of Glasgow covering the entire wall and doors for Mackintosh at the Willow.
---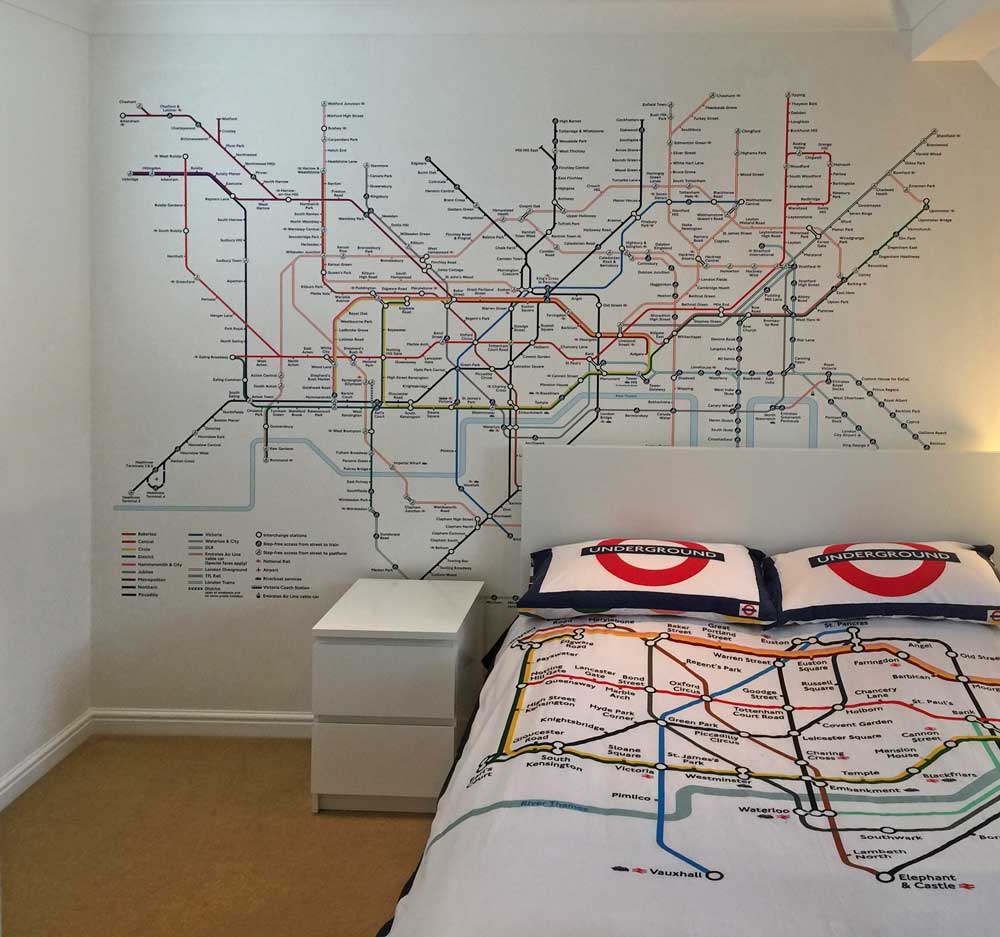 Hi Louise I'm so happy with the finished product. I must say what great quality the print and paper both are. Thank you for you patience in the ordering process. - Stefan Hunt
---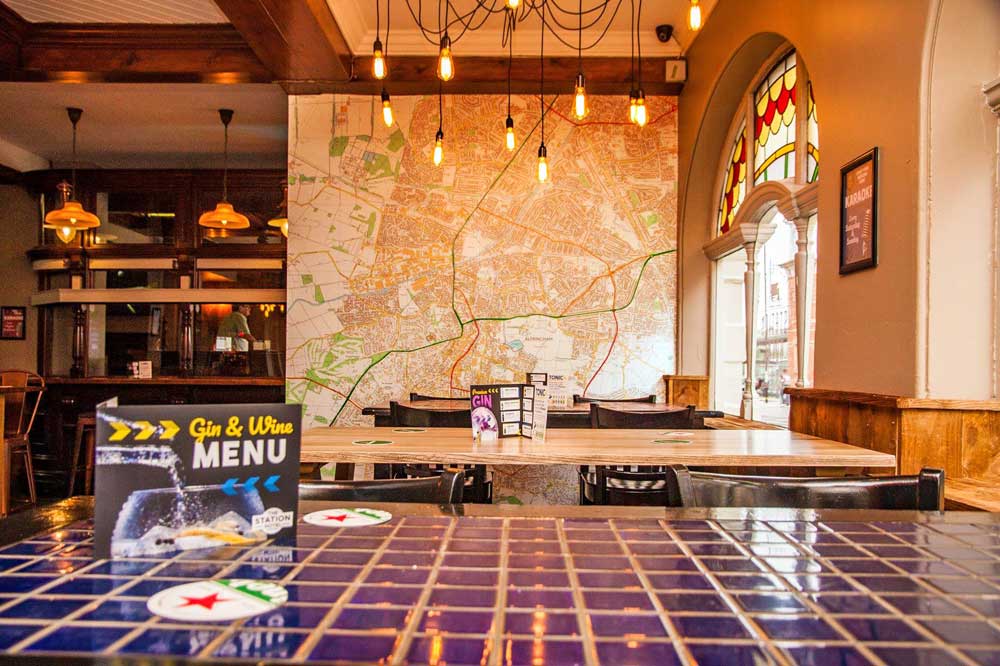 A detailed Ordnance Survey 1:10,000 wallpaper map mural for The Station Hotel in Altrincham, one of Blind Tiger Inns, a small group of public houses that span the North West of England.
---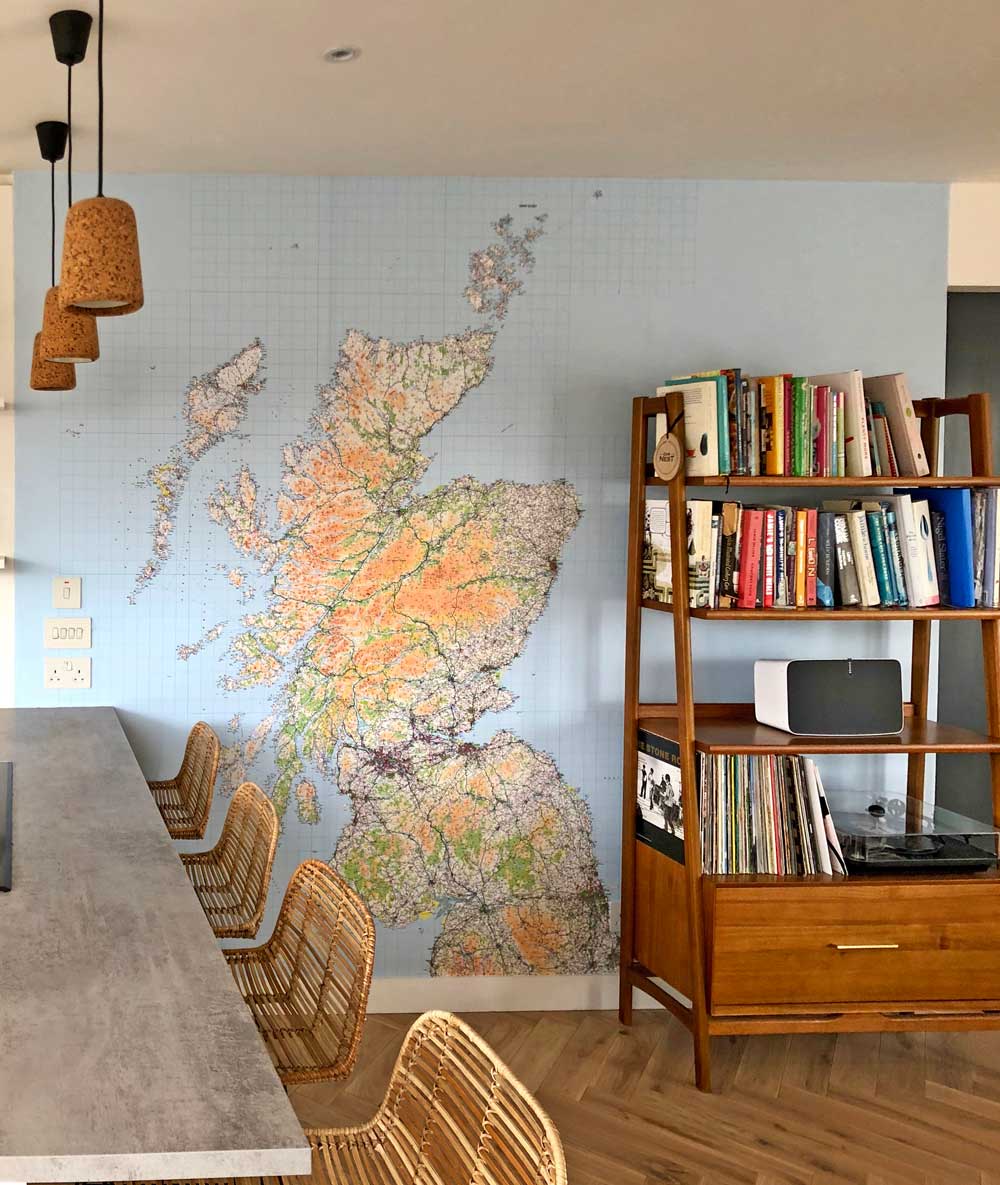 The map looks great. We are really pleased with it. Thanks so much. - Debbie Happell
---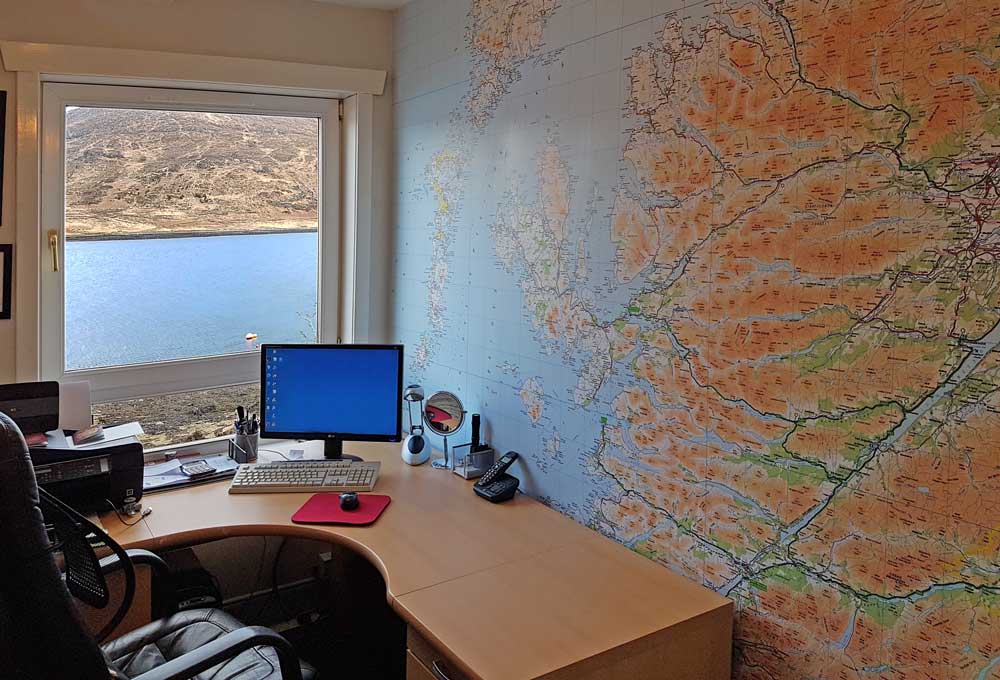 From start to finish the customer service was outstanding, The wall map I purchased was excellent quality, the detail is perfect. Great instructions for putting the map on the, although I would recommend a professional, especially if your walls are uneven. I would highly recommend this company. - Stuart Brumpton, Isle of Skye
---
We approached Redcliffe Imaging for help with turning a an old nautical chart into wallpaper our new facilities building. First rate service and very professional - and we were delighted with the finished product. Would use again. - Matthew Simms, Quay Marinas Ltd
---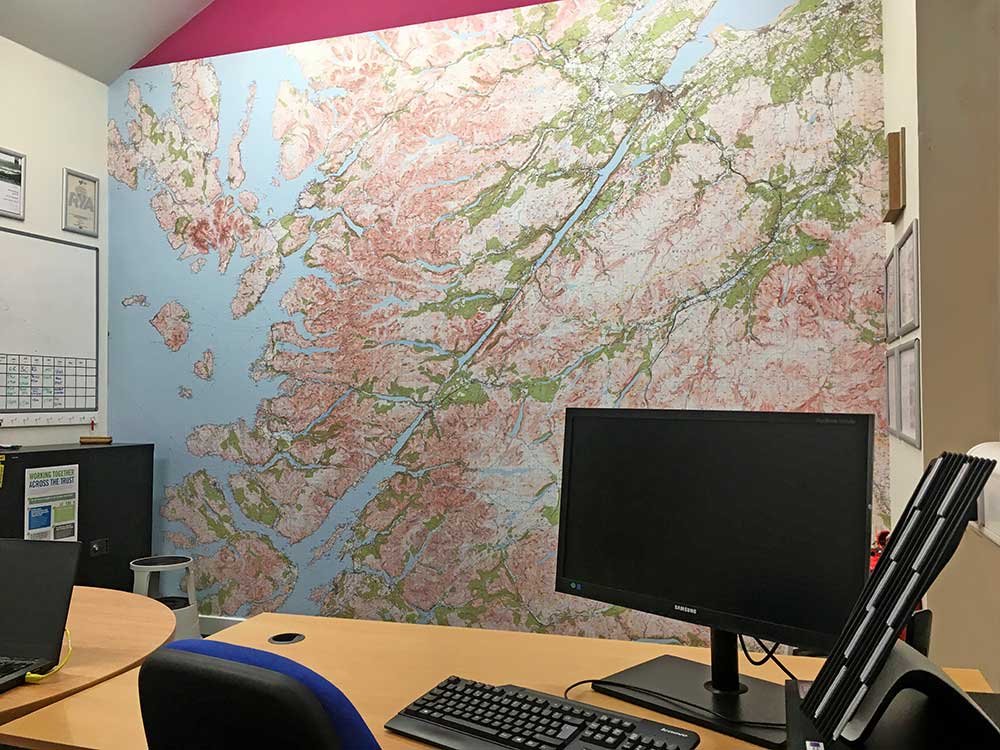 Courtesy: The Outward Bound Trust, @LochEilCentre
We are delighted with the finished map from Redcliffe Imaging. The brief was a 1:50000 map of our area of operation within Scotland, to be installed within a new operations hub for The Outward Bound Trust Loch Eil centre. Excellent job from the team at Redcliffe! - David Exeter, The Outward Bound Trust
---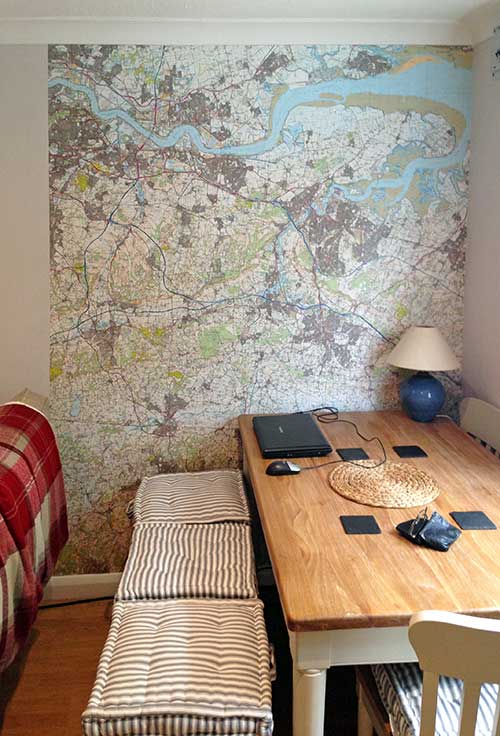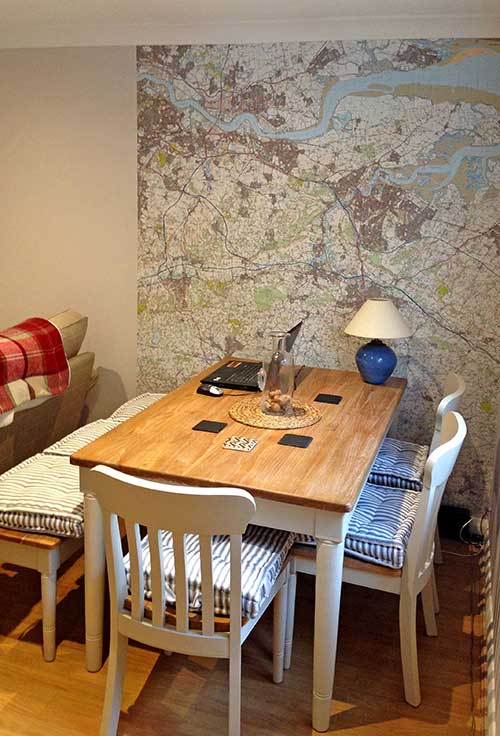 Hi Jo, just wanted to say thank you so much for the wallpaper, we got to put it up yesterday and it looks awesome! Some mildly panicking moments when we put the first panel up haha, but we got there and I can't stop looking at it!
- Joe Godding
---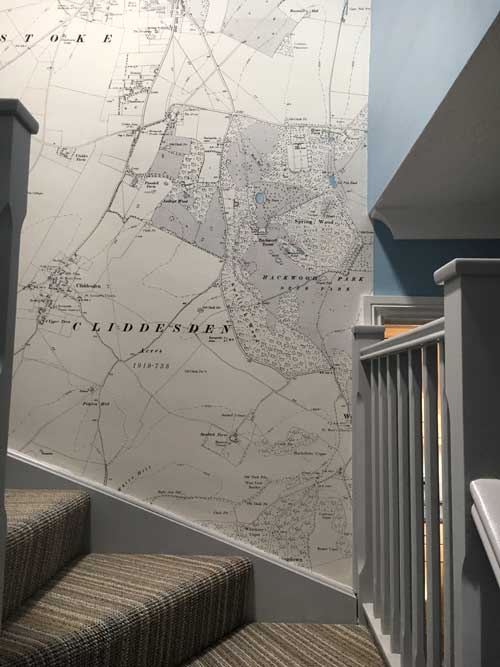 Just wanted to say thank you so much for this - we eventually got around to having it hung a month or so back and everyone who sees it is amazed and I have of course passed your details on to them in case they want something similar.
- Adele David
---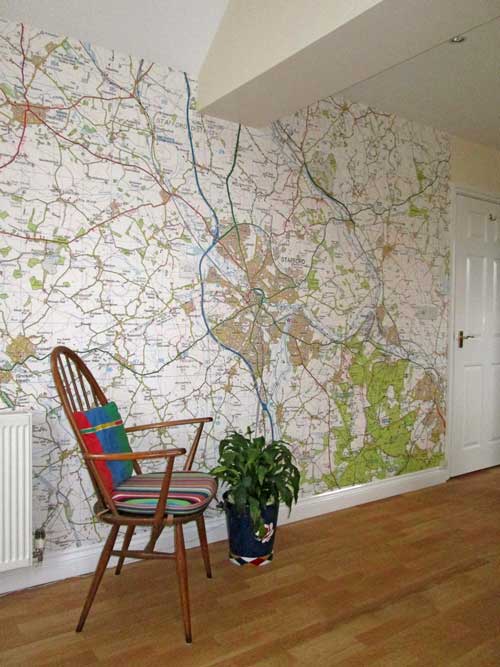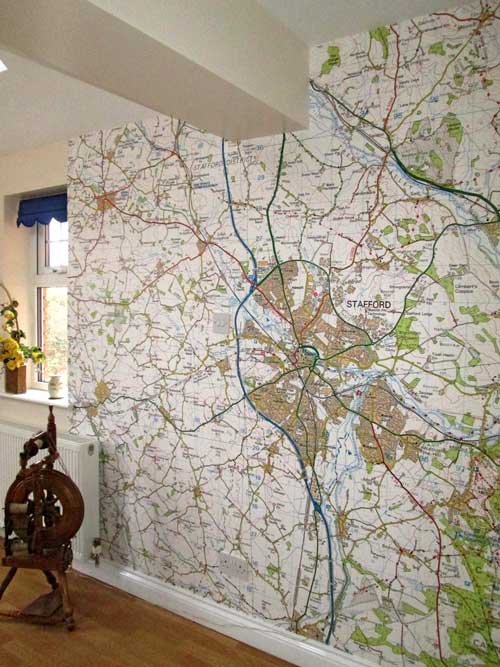 Loving our map of Stafford! Thank you for printing it. Our professional decorator has made a brilliant job of hanging it with trimmed, invisible seams. It's very impressive and adorns our dining room wall distracting, most successfully, from my imperfect cooking! We are OAP's and this will help us to remember where we live as our memories decline!! Regards from Stafford - Centre of the Universe.
- Elisabeth Tomlinson
---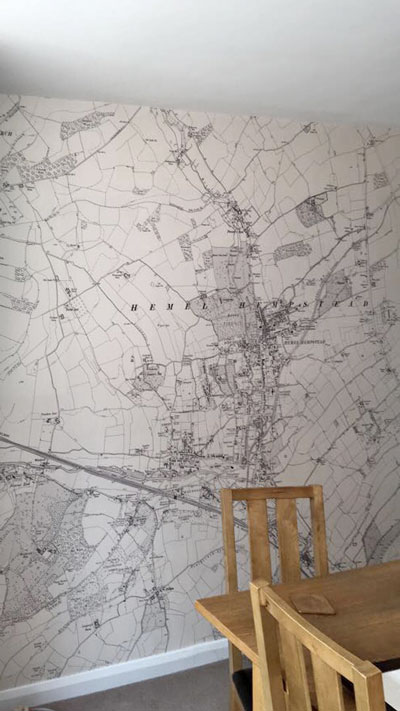 ---

Decorating a narrow hallway – with maps!
by Chrissy Halton
I knew I wanted something similar to wallpaper but more quirky. Something that filled the wall and that didn't need anything extra in terms of furniture or accessories to feel complete.
What options are there?
Well, murals came to mind immediately, and wall stickers as well, but nothing really made sense to the rest of the house.
Until, that is, I realised that the answer had literally been staring me in the face all along… It's so true that you can get inspiration from any number of places and you should always be on the look out, but I wasn't expecting to find it at my gym!
I go the my gym quite a bit – I even work there at least one day a week – and in their work area they have a wall with a feature wallpaper/mural on it.
The thing that makes it quirky is that it's a map wallpaper of the local area. Something that's interesting to look at, and looks great at the same time. It also works really well with the look I have in my house of a little bit of an industrial theme going on....
Read More - Decorating a narrow hallway – with maps!
---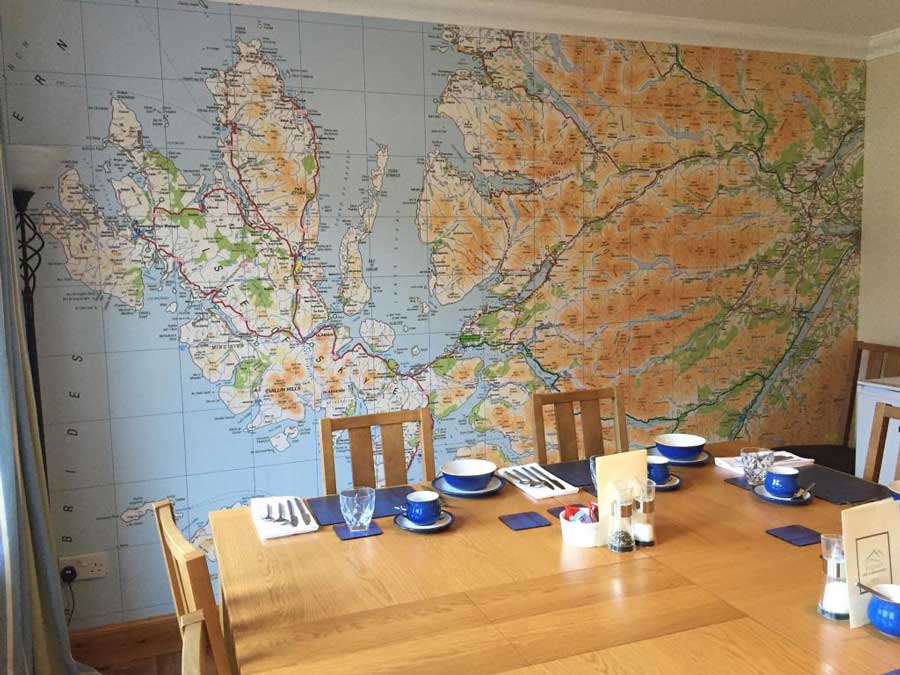 Running a bed and breakfast in this magnificient part of the Highlands of Scotland, it is sometimes difficult to judge times/distances to travel. We decided that with a wall map of the area we would be able to help our guests plan their trips more effectively. Our map from Redcliff has enabled to do that and has had a further benefit of encouraging our guests to share their experiences with one another. It is a both a talking and focal point and crosses Nationailities. There has scarcely been a tripadvisor review of us that fails to mention "the map"! The process of purchasing, proofing, delivery were so quick, and even after a year of being up it is standing up well to the attention it gets. Small finger marks seem to wipeoff with a slightly damp cloth. I had a professional to hang the map/wallpaper for me - my wallpaper hanging skills are legendary (and not in a positive way), but the decorator I had hang it on my behalf said that the instructions were clear and it was a good job to do. This really has been a 5* experience in every way - Lisa Bevan, Owner, Seadrift Bed and Breakfast, Avernish
---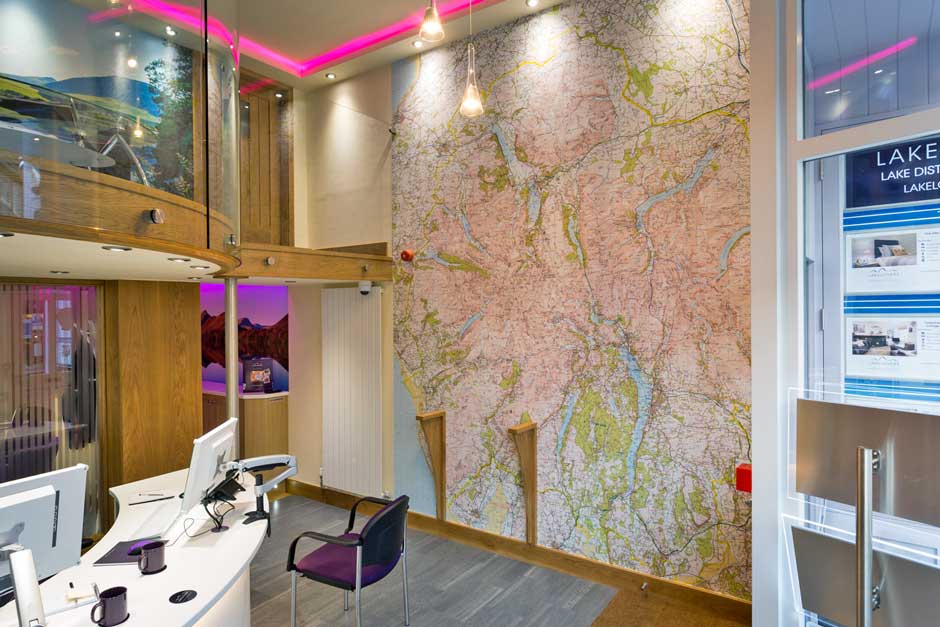 Courtesy: Lakelovers - Keswick
It all looks very good and there have been lots of people asking about them. If you ever find yourself in Keswick please call in and say hi! Thanks for checking with the production team. Graham Wilkinson - Sales Manager – Keswick
---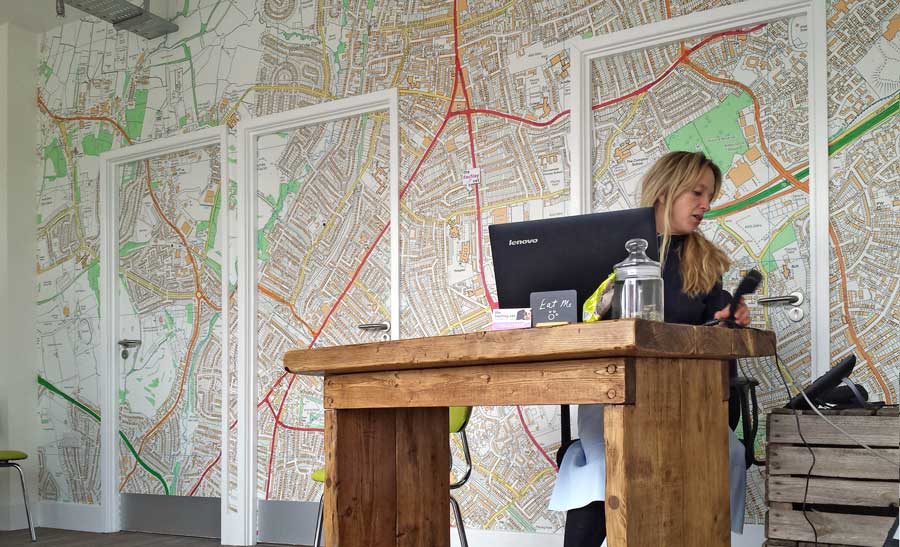 Courtesy: The Finchley Vet
---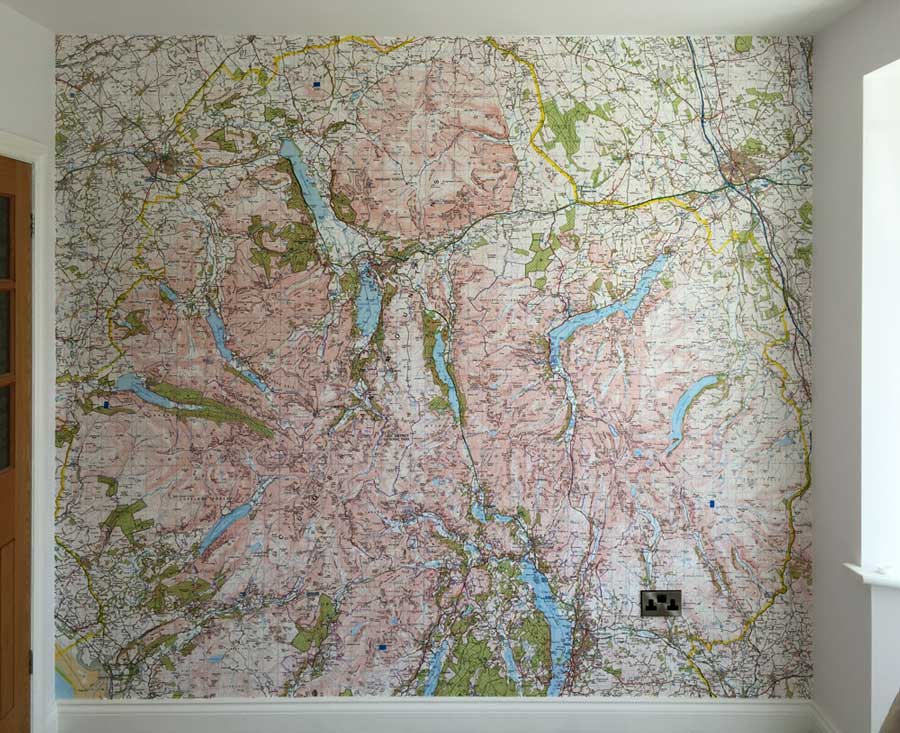 Just a quick one to say how happy I am with the wallpaper! As you can see it's looking spot on. Many thanks for all your help getting it just right - Simon Copner.
---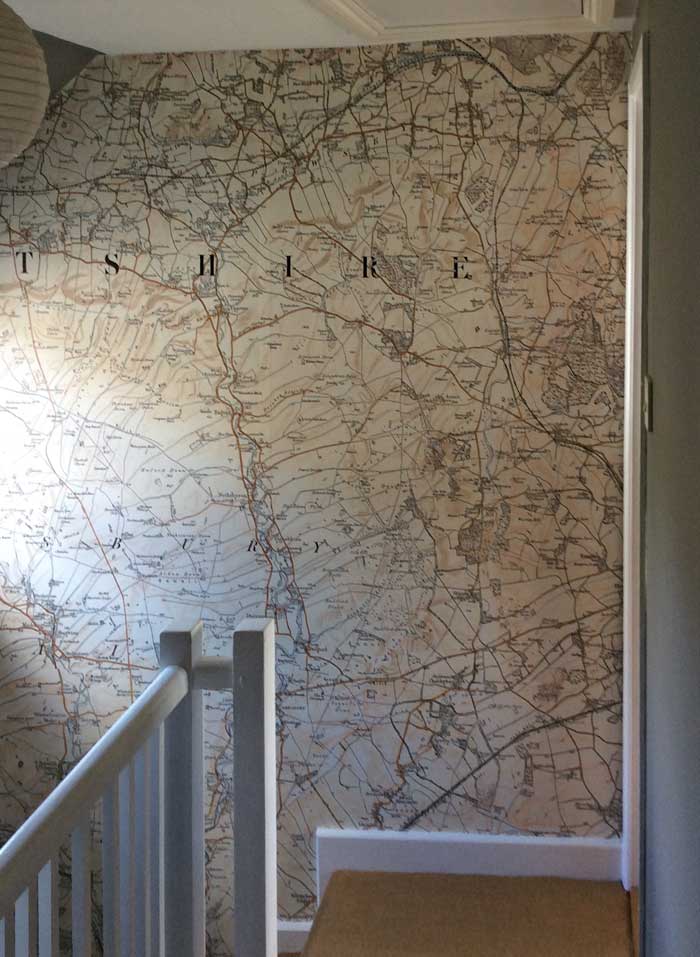 This is just to say thanks for your extreme patience with me over the mapping wallpaper!
The mistake you made was to go out of your way to find an old and unusual version of the Ordnance Survey – which of course I instantly liked, and so began the tortuous process of having to answer all my questions which then flowed over many months.
This continued right up to my eventual panic trying to work out how I was going to hang it correctly.
I am absolutely thrilled with it and am telling anyone that asks (and any who don't too) where I got it from!
- Angus Harvey
---
Thanks for all your help with ordering the wallpaper. We finally got around to putting it up over the weekend and it looks great. I've attached a picture so you can see the finished result! Thanks again - David Staunton.
P.S. I also couldn't resist looking at the online mapping for the area where I was brought up and became quite transfixed by how the area has changed over the years and picking out the landmarks that are still present!
---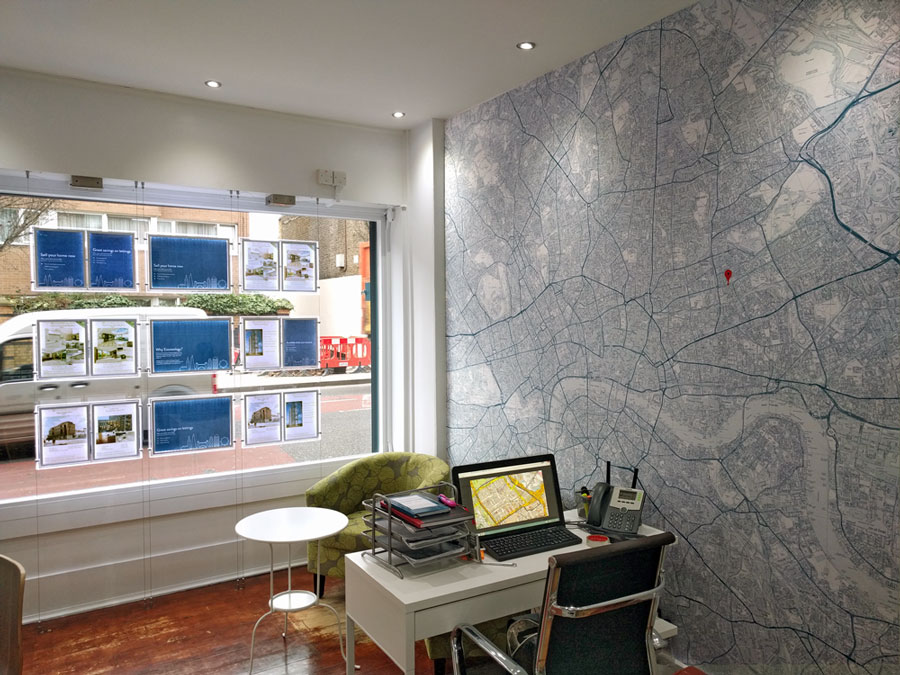 I have been dealing with Jo over the past 10 days to source a map and LED displays for my new business. I just wanted to say that her service, patience, and customer service was exemplary. She was always happy to take my numerous calls and requests (we had to make lots of changes to the map), and she always responded fast - Atif Janjua - Estateology
---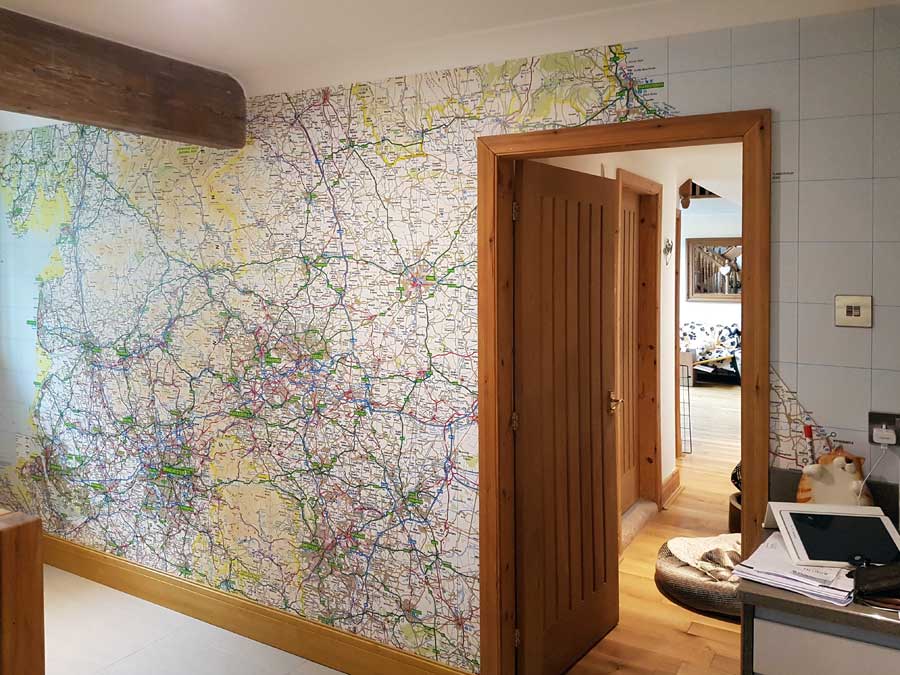 Courtesy: Rupert Kent
---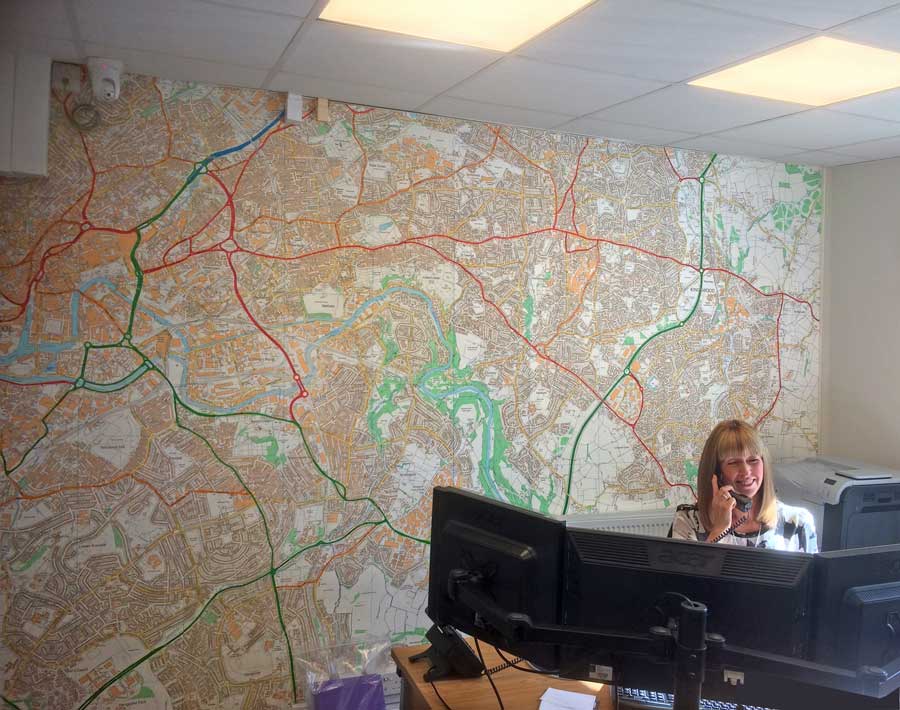 Courtesy: Evans & Partners - Chartered Accountants
---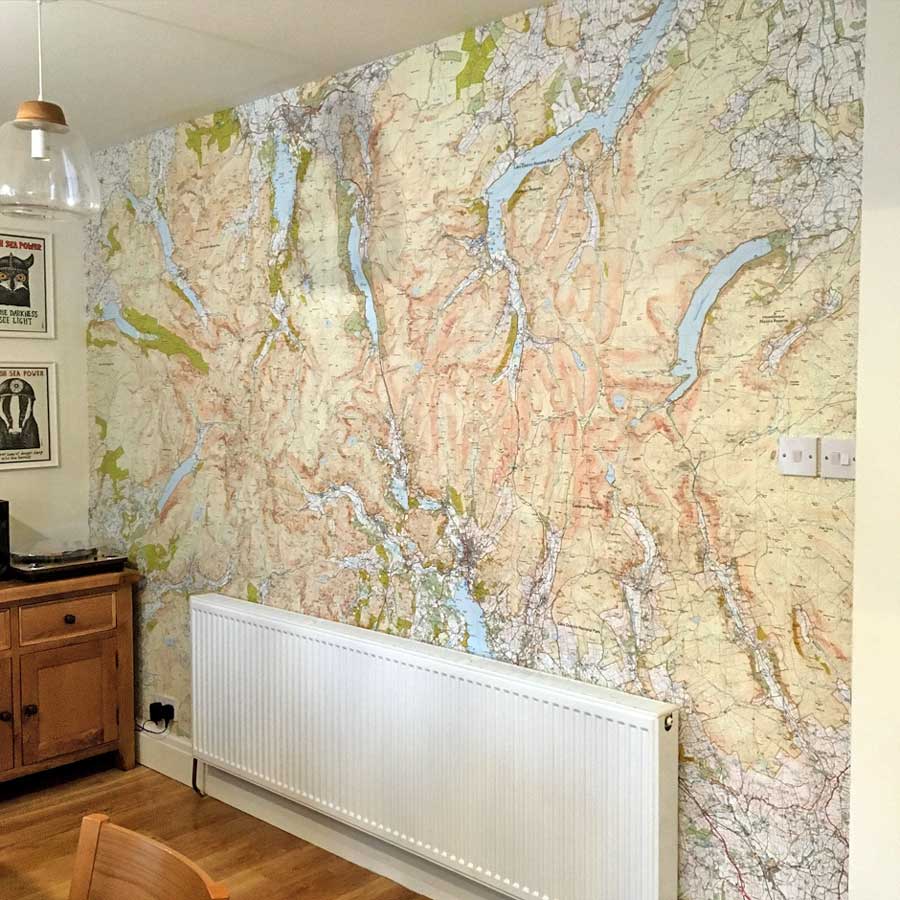 Just wanted to thank you for the Lake District map wallpaper we ordered a couple of months ago. We finally did it this weekend and it looks absolutely stunning. We can't stop staring at it. Great service and the paper was really top quality. We will definitely be recommending you to all the people that love our giant map. Thanks again. Karen Faughey
---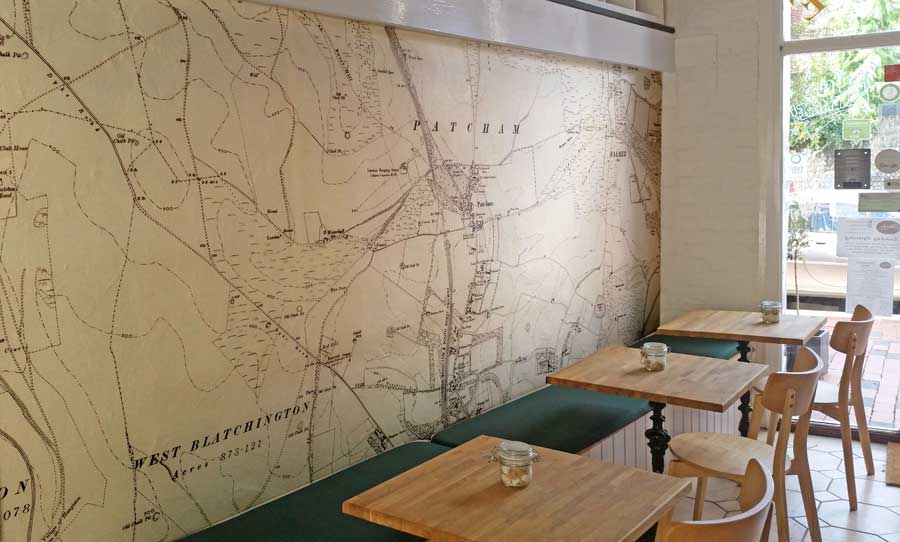 The residents of Patcham who are regulars in The Coach House love looking at and discussing the history of the area, it is a real focal point - Emma Ratcliffe, Miss Bean's Cakes
---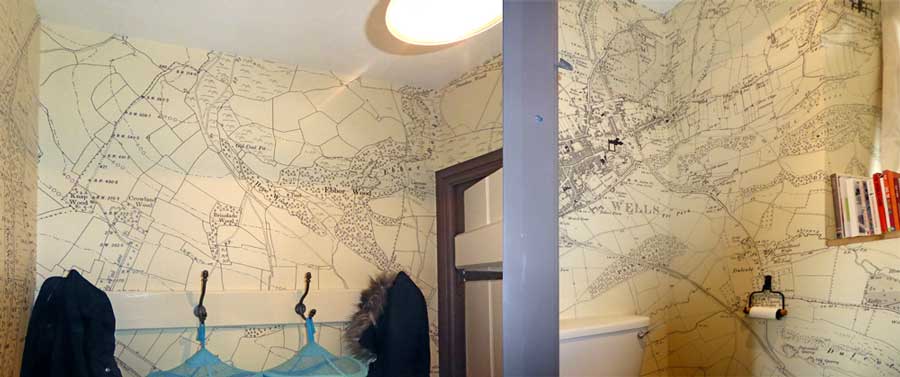 It is done and it looks great and we JUST got our house in on the wall behind the toilet!! Thanks for all your help Jo. Everyone has really admired it too so I have been passing on your details - Jo Webster
---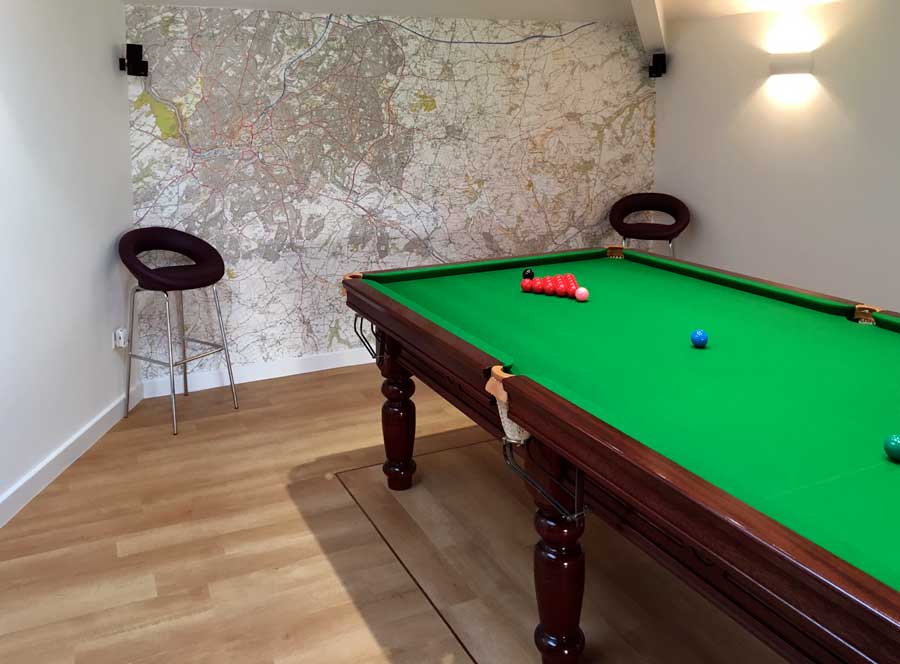 Just to say that I've now put the map up. Looks fab, thank you very much - Jonathan Burbage
---
Courtesy: Paul
---
Courtesy: Sir John Lillie Primary School
---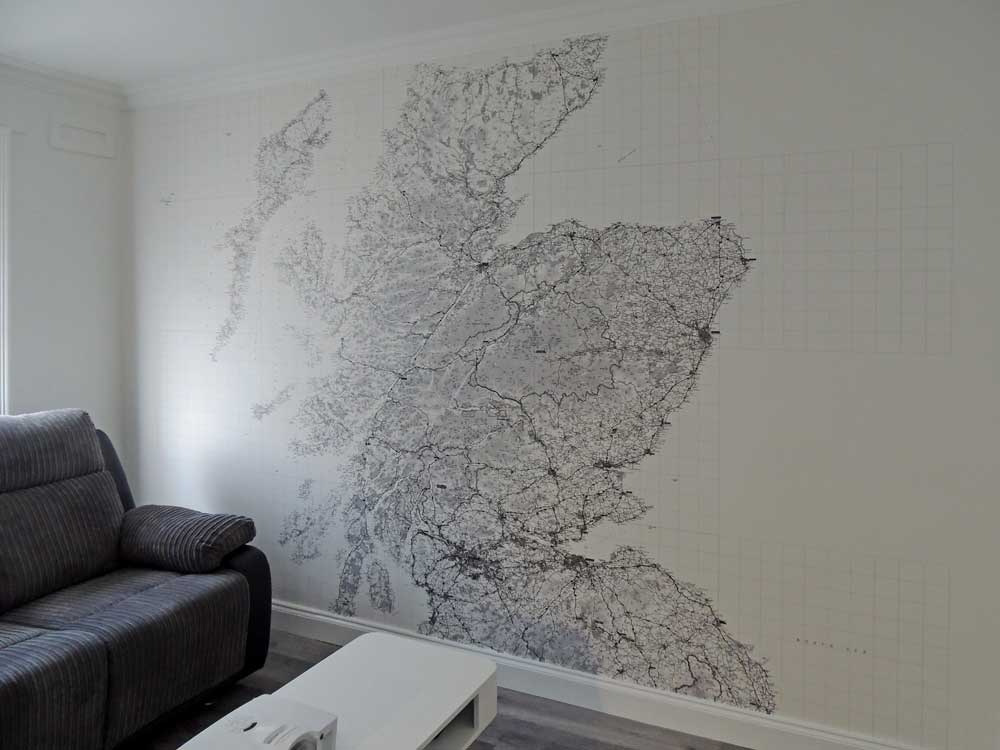 Just wanted to say I am really happy with the recent map wallpaper I ordered and everyone has commented on how good it looks on the wall - Ian Reid
---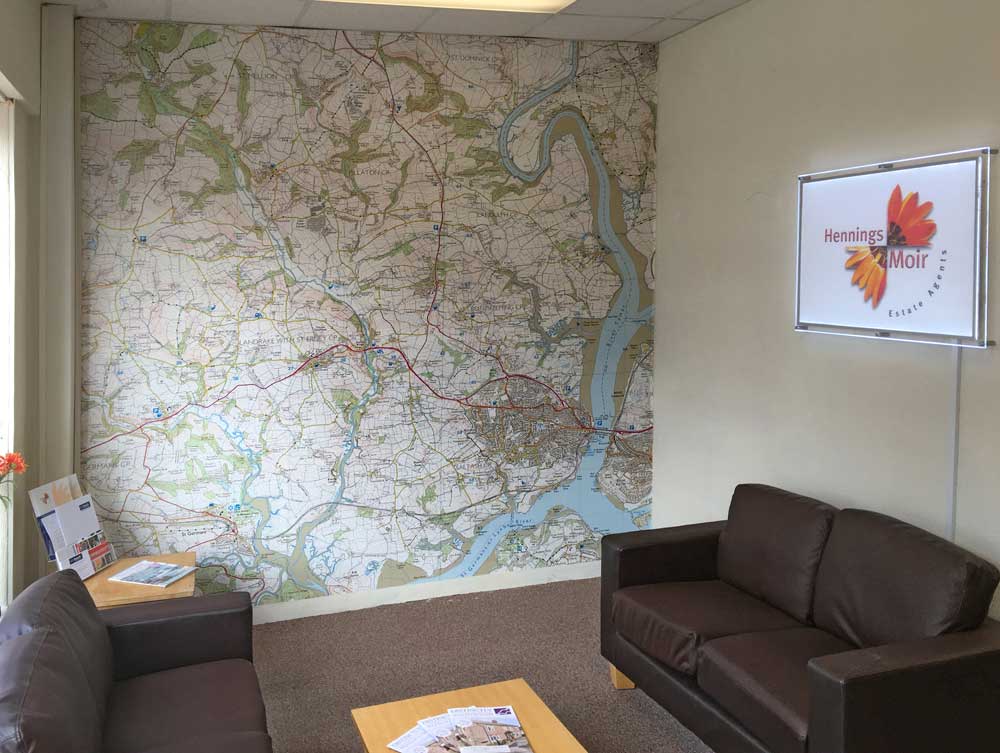 Courtesy: Hennings Moir