IDEAS & INSPIRATION - Recent Map Wallpaper Murals
Do you love the colours, details and sense of adventure that maps and charts give you? See how our customers have transformed their walls with map wallpaper murals sourced from Ordnance Survey, Admiralty Nautical Charts, A-Z Maps, London Underground & Historic OS Maps.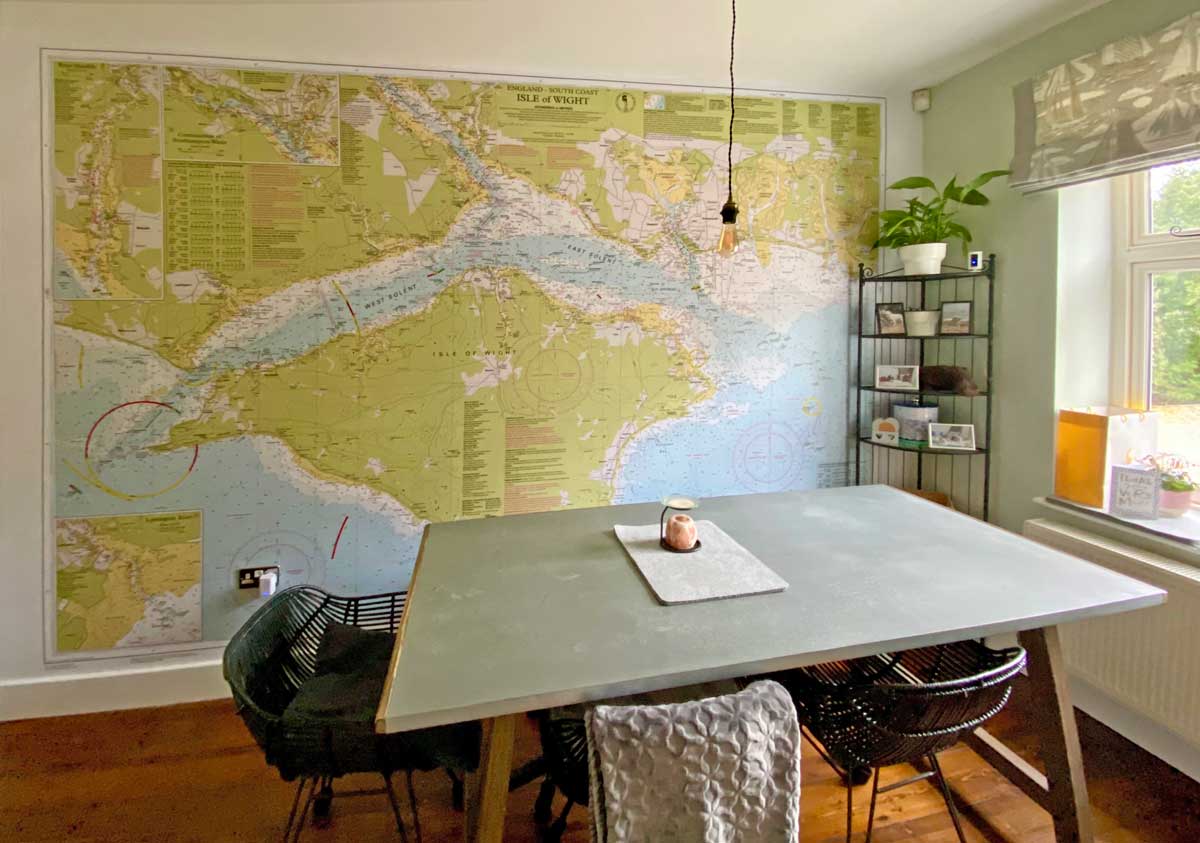 Imray Nautical Chart - Isle of Wight
Courtesy: Hannah Stodel
---
OS Detailed Local Map Mural - 1:10 000
Courtesy: Javed Ahmadi
---
London Underground Tube Map Mural
Courtesy: Mark Kelly
---
OS Explorer Map Mural - 1:25 000
The install was very tricky but the wallpaper looks great. I'm sure we will be receiving more orders from friends and family. - Marcus Fussey
---
Historic OS Map Mural - One-Inch To The Mile
We have recently started up a new Coffee Shop in our village (The Kings Stag Coffee House, Dorset) and we used Redcliffe provide a 1890's map to decorate an entire wall. Redcliffe were quick and professional, getting the product out to us in no time at all! Instructions were clear and now we have a fantastic looking wall! Very happy with everything and would happily use them again! - Jack Langmead
---
OS Explorer Map Mural - 1:25 000
Hi Jo, please see attached pic of the masterpiece in place! The door is only masking taped up at the moment since I'm not 100% sure about it at the moment but suspect it will end up being a permanent feature. - Peter Banthorpe
---
UK Admiralty Nautical Chart - English Channel
Courtesy: Jo Fearnhead-Wymbs
---
A-Z Street Atlas Map Wallpaper Mural
Very happy customer!! Great service from Jo - professional, responsive and super helpful to get the design just right for my feature wall. Once ordered the wallpaper arrived in just a couple of days, is high quality and I was able to apply it by myself following the simple instructions provided. I can't recommend Redcliffe enough! - Melanie Page
---
Historic OS One-Inch To The Mile Map Mural of the Inner Hebridean island of Coll
Courtesy: Gill and Ian Rae
---
A-Z Street Atlas Map Wallpaper Mural
Wallpaper arrived, installed, and looks great in my home office :) Thanks for your great service. - Amos Barak
---
OS Landranger Map Mural - 1:50 000
Courtesy: Alan Emslie
---
Historic OS Map Mural - Six-Inch To The Mile
Magnificent historic wallpaper map of the centre of Glasgow covering the entire wall and doors for Mackintosh at the Willow.
---
London Underground Tube Map Mural
Hi Louise I'm so happy with the finished product. I must say what great quality the print and paper both are. Thank you for you patience in the ordering process. - Stefan Hunt
---
OS Regional Map Mural - 1:250 000
The map looks great. We are really pleased with it. Thanks so much. - Debbie Happell
---
Historic OS Map Mural - Six-Inch To The Mile
Hi Jo, as promised please find attached a picture of the new hallway; we're so pleased with the wall paper, it makes such a difference! Thanks for all your time and attention.
Kind regards, - Andy Wearing
---
I am delighted with my Redcliffe World Map. It's a quailty product, and not (too!) tricky to hang. It's a beautiful addition to my study and offers a welcome sense of perspective. Definitely a good choice, and worth the cost. - Clodagh Harrington
---
OS Detailed Local Map Mural - 1:10 000
Courtesy: The Finchley Vet
---
OS Explorer Map Mural - 1:25 000
Just wanted to thank you for the Lake District map wallpaper we ordered a couple of months ago. We finally did it this weekend and it looks absolutely stunning. We can't stop staring at it. Great service and the paper was really top quality. We will definitely be recommending you to all the people that love our giant map. Thanks again. Karen Faughey
---
Historic OS Map Mural - Six-Inch To The Mile and OS Detailed Local Map Mural - 1:10 000
Courtesy: Sir John Lillie Primary School
---
OS Explorer Map Mural - 1:25 000
Courtesy: Adam Spink
See More Customer Map Wallpaper Projects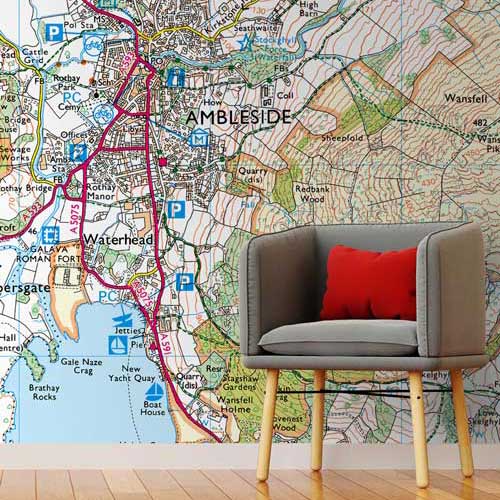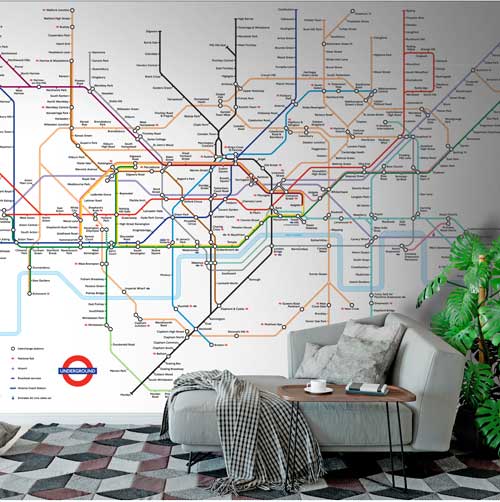 London Underground Tube Map