Local map wallpaper can be a great addition to any restaurant or bar, creating a unique and memorable atmosphere that can make a lasting impression on customers.
Whether you're looking to create a rustic, industrial feel or a more modern, sleek vibe, incorporating local maps into your decor is a great way to achieve this.
Here are some of the reasons why local map wallpaper can be such an effective design choice for pubs, restaurants and bars:
It creates a sense of place.
By using maps that highlight the local area, you can create a strong sense of place within your establishment. This can be particularly effective for businesses that are located in areas with a lot of history or culture.
For example, a restaurant in Oxford could use historic Ordnance Survey maps of the Oxford Castle Quarter, while a bar in London might feature a mural of the city's iconic underground map.
We are are licensed partners with Ordnance Survey, historic OS from the National Library of Scotland, A-Z mapping from Collins, Admiralty Charts from UK Hydrographic Office and London Underground Tube map and icons from Transport for London. Your map wallpaper mural, whether modern or historic, is custom printed to your exact wall dimensions.
MORE - Map Wallpaper Murals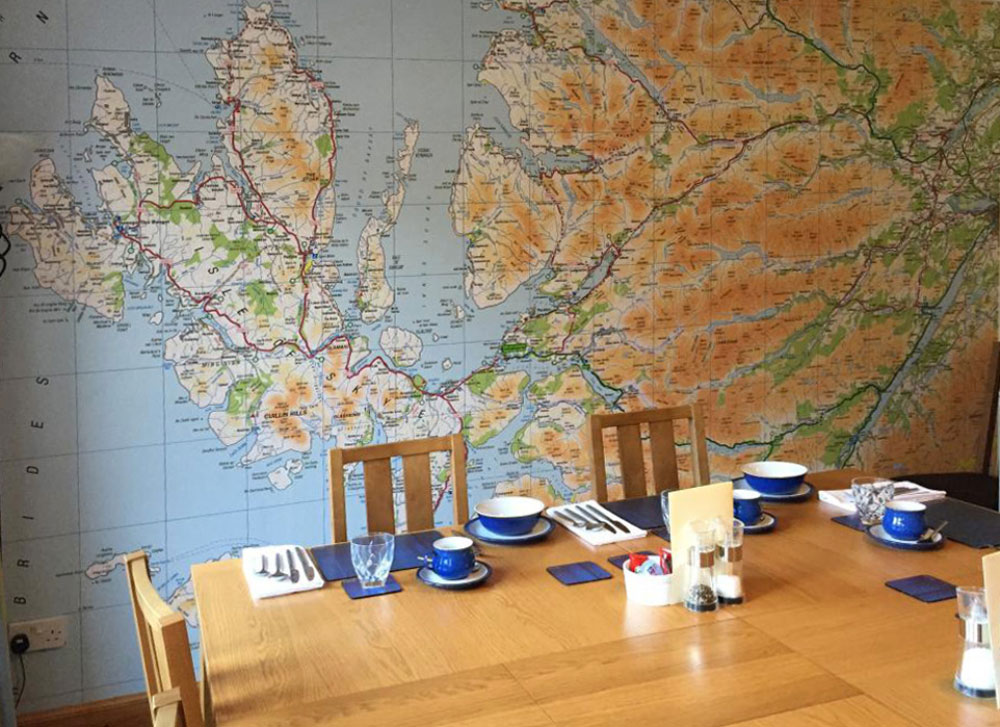 Running a bed and breakfast in this magnificient part of the Highlands of Scotland, it is sometimes difficult to judge times/distances to travel. We decided that with a wall map of the area we would be able to help our guests plan their trips more effectively. Our map from Redcliffe has enabled to do that and has had a further benefit of encouraging our guests to share their experiences with one another. It is a both a talking and focal point and crosses nationailities. There has scarcely been a Tripadvisor review of us that fails to mention "the map"! - Lisa Bevan, Owner, Seadrift Bed and Breakfast, Avernish