Don't Take Our Word For It
Our customers depend on us to provide high quality mural and wallpaper printing and exceptional customer service. We do our best to meet and exceed their high standards. Here's what our customers say about our efforts:
Just wanted to thank you for your wallpaper service. The quality of the print and paper is very good and laying it out was easy, actually easier than other wallpaper I have used. The shop is really transformed since we have put the wallpaper up. So a big thank you.
- Thomas, (Gossypium - Organic Cotton Yogawear)
---
We absolutely love our wallpaper and we have already had amazing comments from the locals here. Many thanks and truly amazing wallpaper!
Williams Estates - Rhuddlan
---
Custom Wallpaper Installation
Courtesy: Mad Dogs Television
Hi Jo, thanks for your help with this, pleased to say the new wall is up and looks amazing. I made a short timelapse of us putting it up for our social media too if you are interested.
James Bailey - Mad Dogs Television
---
Thank you for getting the wallpaper through and out so fast - it's rare to get such great service, so thank you.
- TL Contracts
---
Just wanted to say a big thank you to yourself and Emma who have been fantastic and been very patient with me. Received the map promptly and was fitted last night by tradesmen. Looks excellent and exactly what we wanted. A job well done.
- Malik Khan, Propertylink
---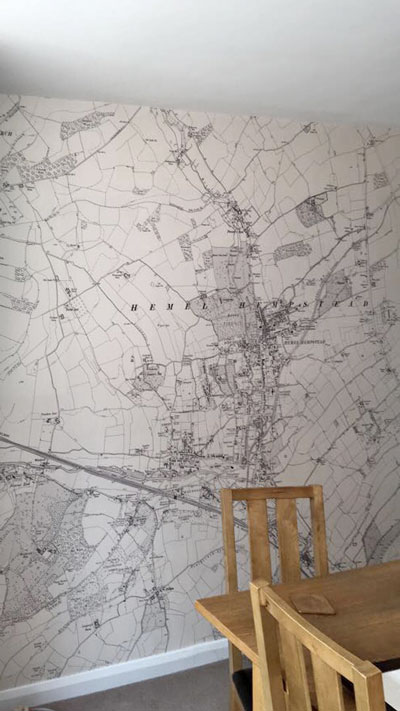 ---
Running a bed and breakfast in this magnificient part of the Highlands of Scotland, it is sometimes difficult to judge times/distances to travel. We decided that with a wall map of the area we would be able to help our guests plan their trips more effectively. Our map from Redcliff has enabled to do that and has had a further benefit of encouraging our guests to share their experiences with one another. It is a both a talking and focal point and crosses Nationailities. There has scarcely been a tripadvisor review of us that fails to mention "the map"! The process of purchasing, proofing, delivery were so quick, and even after a year of being up it is standing up well to the attention it gets. Small finger marks seem to wipeoff with a slightly damp cloth. I had a professional to hang the map/wallpaper for me - my wallpaper hanging skills are legendary (and not in a positive way), but the decorator I had hang it on my behalf said that the instructions were clear and it was a good job to do. This really has been a 5* experience in every way.
- Lisa Bevan, Owner, Seadrift Bed and Breakfast, Avernish
---
I am so impressed with the service at Redcliffe Imaging, my wallpaper arrived perfectly on time with great quality of print. Thank you, I will recommend you to anyone!
- Laura Shelley
---
Just wanted to thank you for the Lake District map wallpaper we ordered a couple of months ago. We finally did it this weekend and it looks absolutely stunning. We can't stop staring at it. Great service and the paper was really top quality. We will definitely be recommending you to all the people that love our giant map. Thanks again.
Karen Faughey
---
Thanks for all your help with ordering the wallpaper. We finally got around to putting it up over the weekend and it looks great. I've attached a picture so you can see the finished result! Thanks again.
- David Staunton
P.S. I also couldn't resist looking at the online mapping for the area where I was brought up and became quite transfixed by how the area has changed over the years and picking out the landmarks that are still present!
---
It all looks very good and there have been lots of people asking about them. If you ever find yourself in Keswick please call in and say hi! Thanks for checking with the production team.
Graham Wilkinson - Sales Manager – Keswick
---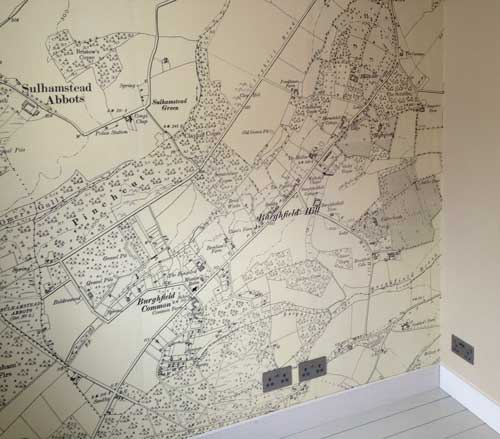 ---
It took some time for us to finish our room and put the OS map paper up. However we are incredibly pleased with the result. The Fabritac self adhesive was an excellent paper and definitley still restuck well where we had to peel back to smooth out a bubble. Joining the map edges worked well. Everybody has been so impressed by our map - it is a definite wow factor, talking point and holds so many memories.
Diane Oliver
---
Just wanted to say thank you for getting that wallpaper through and out so fast - it's rare to get such great service so thank you.
- Lyndsey Markland
---
I have been dealing with Jo over the past 10 days to source a map and LED displays for my new business.
I just wanted to say that her service, patience, and customer service was exemplary. She was always happy to take my numerous calls and requests (we had to make lots of changes to the map), and she always responded fast.
- Atif Janjua - Estateology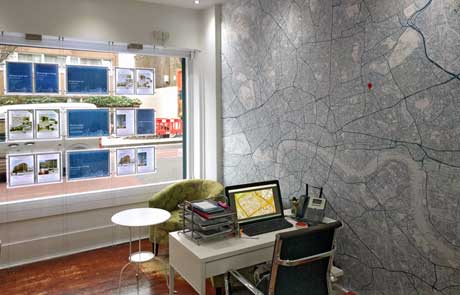 ---
You asked for a pic of the Fabritac in place. Amazing stuff. I did manage to lift up and paint behind without issue to get rid of the marks showing through. I managed to fit entire thing myself so is very easy as I really cannot wallpaper but am ok at diy. The only recommendation / feedback I would give is for you to tell people that it is fairly translucent so does show all marks and small lumps / defects in the wall. The better the prep to a perfect smooth white surface the better the finish. Especially with any white / light colour areas on the print. Many thanks for help and service. Very impressed and will use this again I know.
- Guy Barwell
---
Might be worth adding to your instructions about spray and pasting wall. That was a great help. Not sure if customer over measured but with large amounts of excess drop to the paper it was a bit awkward as the paper kept peeling away from then wall while trying to straighten it! End result was great though and sure it would be easier next time round.
- David Baker
---
I wanted to cover a very specific area within the wall space available, so I found it easiest to contact them by phone. they were very patient with me, and gave me confidence that I would receive the right thing. I didn't actually hang the paper myself, but the decorator siad the instructions were clear and the process easy to follow. The effects are Great - just what we wanted. thank you.
- Louise Kirk