Photo Wallpaper Ideas & Inspiration
Recent Customer Photo Wallpaper Murals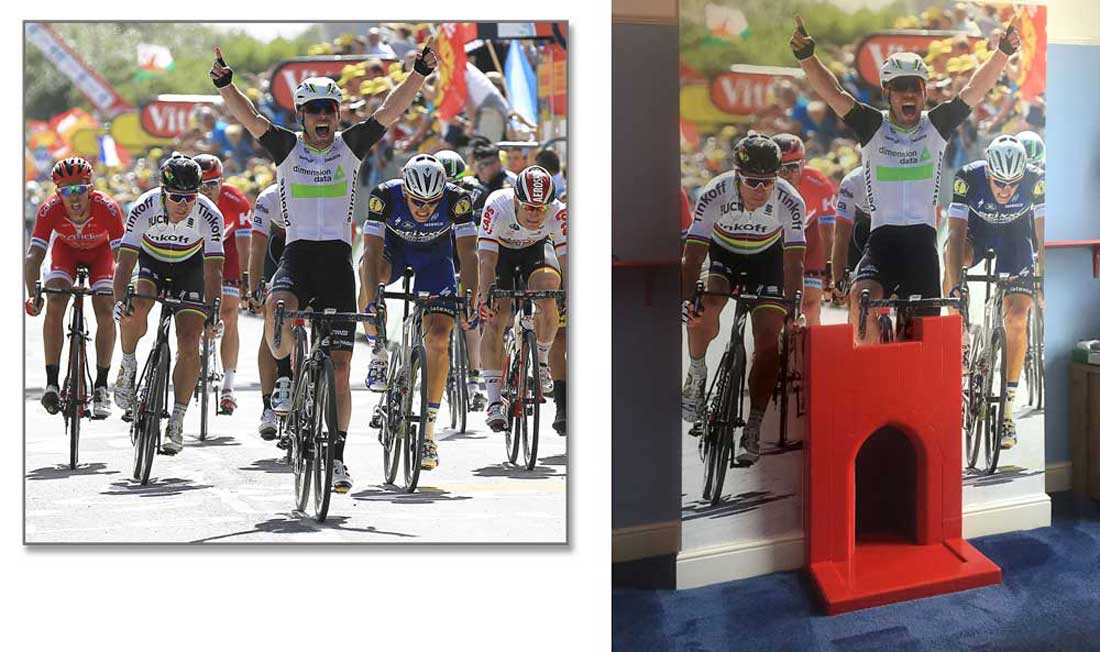 This fantastic photo wallpaper mural was for his (cycling mad) son's bedroom.
Thanks. He loves it! - Stephen Jones
---
Hugh in the Loo
A well chosen image library photo of Hugh Grant was perfect to add a bit of class to this loo.
Plus an historic OS map wallpaper mural of the local area set the scene for the living room area.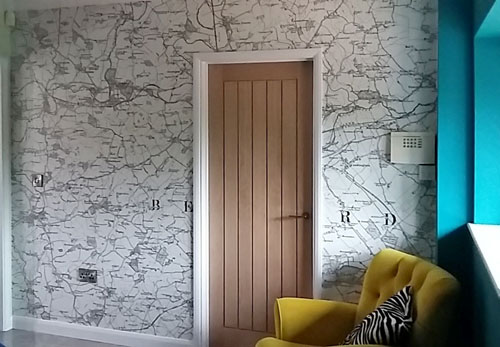 Hi Jo. Thought I'd share these with you - Hugh in the Loo and the Map on the wall - really easy to fit, thanks. - Neil Sewell
---
Been back working on a house this week where I hung a very cool map mural a few years ago, still looks excellent, can't help stop and look at it. Hung the car one today in the clients 'man cave', looks very cool also, super striking clear details to it - @redcliffe.imaging top job - Chris Dicky
---
I finally got my mural hung yesterday. I got a decorator to do it in the end and he spliced each overlap ... I am very impressed by the quality and detail of the print, quite stunning for something this large. - Ian Webb
---
Really pleased with the wallpaper. Looks fantastic and so easy to apply….and that is considering I have never hung wallpaper before. Thanks for turning it around so quickly. - Ed Cawdell
---
Courtesy: Jennie Poyser
---
Courtesy: Jonathan Keeler
---
Good print quality, the tiled vinyl was a bit difficult to line up only due to it being really adhesive. So if it was paste based it would be a little easier to amend and align but either way it looks good! - Danny Evans, ZERO EV Electric Vehicle Specialists
---
Courtesy: Jessica Humphreys
---
Thought I'd send you a photo of the new wallpaper in my office, I think it's great, got a really nice tranquil feel. - Dave Gardner
---
... couldn't be happier! Excellent product! I have already shared this image on the Interior Design Forum recommending your company's services to all that saw it. Great job guys, it has been a pleasure to deal with you and your colleague from start to finish - Magda Phipps
---
Courtesy: Popular Move Estate Agents, Pembrokeshire
---
Courtesy: Charlotte Designs
---
I cannot recommend this company highly enough, I wanted a mural for my bedroom wall, and Jo was absolutely amazing in helping me, my original image was very poor quality, she quickly let me know this was unsuitable and helped me find a better alternative, she was extremely patient with me and her knowledge of what would work for me was second to none. On receiving my order I decided to hang it myself, (never done it before and very scared) I cannot tell you how easy it was to hang, and the end result is just breathtaking in my opinion. The quality of the paper and the print is just TOP NOTCH if I could give more stars I would. - Candy Kemp
---
Really helpful staff ( Jo) I had no idea how to select quality images for my wallpaper. Jo was very helpful and seemed not to be at all phased by my questions/ emails. Product came back as exactly how I had envisaged, Great quality and I am so pleased with it. Wallpaper was for a bathroom wall: Luskentyre Beach, Harris. Just beautiful. - Lesley Yarrow
---
Jo, please find attached photos of the custom wallpaper that you did for me. Really pleased with it and has had the effect I was looking for. - Robert Sheils
---
Mirrored mural, on a curved ceiling in a vaulted room! Courtesy: Richard Ellis
---
I received great service from Jo at Redcliffe Imaging from the start of my project right through to completion. The project was to turn an old photograph into wallpaper. The wall was 4m x 2.20m, Jo advised that the quality of the image could drop at that size, we reworked it to 3m x 2.20m and arranged for a sample to be produced. Having received the sample I went ahead with the order. The finished product was even better than the sample and the whole project has exceeded my expectations. If anyone asked me wheres the best place to go to get an image turned into wallpaper I would definitely tell them to contact Jo. - Paul Bateman
---
Courtesy: Lawrence Hobbs
---
Courtesy: Total Bleed Solution
---
Courtesy: Dr Raj Khanchandani
---
Courtesy: Marcel Pfrang
---
I cannot recommend Redcliffe Imaging enough! This was a personal project, an under stairs Voice Over Studio for my partner, she wanted to incorporate a poster of her favourite comedian, Rik Mayall. Having submitted a number of very poor quality images I'd found on Google to Redcliffe, using their very useful online "create your own custom wallpaper" tool, Jo, who is an asset to the company, took the time to source and respond with a number alternative images resulting in a much better resolution. Jo was very patient with my indecisiveness, prompt in responding and went over and above to make my overall experience as seamless as possible. I opted for the FabriTac wallpaper and due to the remove/reposition feature of this product, installation was very straight forward and forgiving. The price and quality of the fabric and print is simply fantastic. The only problem is we can't show it off to anyone due to lockdown. The important thing is my partner is over the moon with the end result. Many thanks to Jo and the team! - Mark Kelly
---
The guys at Redcliffe were so helpful, I had some tech questions about providing artwork and they were clear and concise on what I needed to do. The turnaround was quick and the quality of print was outstanding. I will be sure to recommend and use them again in the future. - Gary Allen
---
We can't thank you enough for all your help, the picture is absolutely stunning!! We had it installed on Saturday and it is just perfect!! Please pass on our thanks to the photographer, we just can't stop looking at it!! - Sarah Hann
---
Really happy with how it tuned out (see pic). Thanks for all your help. - Guy Tansley
---
I just wanted to send a message of thanks for the wallpaper you made for my sons bedroom, he is delighted with it! The image came out better than we could have hoped for and the quality is great. Customer service was also superb from first enquiring to fast delivery. Thanks again. - Gemma Watson
---
Courtesy: Helen Winter
---
Technical drawing of a Vickers Supermarine Spitfire Type 300 transformed into a wallpaper mural
Hey Jo. I am over the moon, absolutely fantastic. Thank you for all your help. - Dave Clarke
---
Our teenage son was looking for 100's of movie posters for his new bedroom wall and we turned to Redcliffe for a solution. The wall was roughly 3m x 2m and after uploading the rather large file, Redcliffe promptly sent us 3 rolls of pre-pasted wallpaper making up the collage. The print quality was superb! Each poster is roughly A4 in size and you can read all the text, even the tiny 'also starring' names at the bottom of each poster. The colours are rich and the reproduction is a perfect match. There were several print options and we went for the pre-pasted paper. The price was very competitive and for the size of wall was very reasonable. Application was a breeze - just dampening the rear of the paper with a wet sponge. The alignment between the sheets was perfect - you cannot see the joins at all! And the end result is perfect! Our son is so pleased with the finished wall and we were so pleased with Redcliffe - a superb service for a superb product!. - Richard Osborn
---
Courtesy: Barnet Original Hair & Beauty, Derby
---
Just letting you know that I put up my wallpaper last month and it looks great! I could've done a slightly better job and next time I might get someone in to do it for me, but I'm very pleased with the results nonetheless! It's on the wall behind me when I'm working from home, so sometimes people in meetings think I've got a virtual background before they realise it's my actual wall! Thank you for all your help!- Harry Cruse
---
FabriTac wallpaper mural - wall size 423cms wide x 234cms high. - Noted In Style Ltd. Folkestone, Kent
---
Just wanted to say thanks for all your help, it looks great up and the little man seems to like it. - Alex Hall
---
Courtesy: At No 19 Interiors - The Dawson Arms
---
I wanted to share the heron with you! I love it! Thank you - Kate Burford
---
My wife and I had recently downsized from a Victorian villa, to a modern apartment. So we effectively started a new design journey from scratch. An unusual photographic idea was transformed into full wall artwork. Louise from Redcliffe Imaging guided me brilliantly through the process required to complete the finished look we had hoped for. - Nigel Kirk
---
Courtesy: Ann Mullen
---
Dear Jo, Just wanted to say a million thanks all arrived and up looks fantastic ready for his birthday. You have been a star thank you . - Amir Jati
---
Excellent experience throughout. Nothing was too much trouble fo Jo who helped me source the image and the print quality, packaging and instructions were first class. I have no hesitation in recommending Redcliffe Imaging and look forward to ordering from them again for future projects. - Mark Plotnek
---
I bought some wallpaper off you with a bespoke design and I'm delighted to say it looks fantastic so a big thank you. John Goodwin
---
We are over the moon with our bespoke wallpaper mural from Redcliffe. We cannot recommend this company enough. It took months for us to choose an image that we wanted. We had completely refurbished our house and wanted something special. Jo, Louise and Emma helped us every step of the way. From the image quality to the wallpaper we should use. - Faye & Rob Boswell
---
It was a delight to deal with a company that actually care about what they do! And the product is fantastic, Outstanding job and we couldn't be happier. Thoroughly recommend - Ciqurix Ltd
---
Courtesy: Birkdale School, Geography Dept.
---
Courtesy: Anthony Soothill
---
Courtesy: BOOST&Co
---
We've only just managed to set up the mural you printed for our grandson's bedroom because of the lockdown restrictions. He is absolutely thrilled with the end product and, as promised, I've sent you a photo. Thank you for your help with the ordering and we look forward to using your services again - Denise Oastler.
---
Courtesy: Nick Buxton
---
Got a large print for my home gym. Really happy with the results - Tajdar Jawaid
---
The installation went well and we are so pleased with how clear the images are! Thanks for all your help - Clippesby Hall, Norfolk
---
Just wanted to show the wallpaper up in the shop - looks great many thanks. Montezuma's Direct Ltd.
---
We think it looks amazing and we have had lots of great comments on it, so happy with everything that you have done, we will be using you guys again! I have included a photo of it up on our wall, fits a treat. Thanks again for sorting us out - Ashley Sermon. Courtesy: Automotive Sporting Heritage
---
Thanks again for your guidance and helping hand with creating the wall art I was seeking - Paul Banks
---
Courtesy: Airbnb, Sedbergh, Cumbria
---
Courtesy: Ilan Slazenger, Clowntown
---
Courtesy: Adam Cross
---
Historic photo of Bristol (1950) from Francis Frith Collection, alongside historic OS map of Bristol. Courtesy: Jayne Lomax
---
Courtesy: Tac Vien - Hao Wei
---
I have a very happy daughter now! We put up the mural this weekend and one piece Fabritac was definitely the right material choice for us. Overall we both really, really happy with it! Thanks also for the super packaging which did the job well and the offcut that my daughter plans to use to make some mini wall stickers. She is very much into art and doing an art GCSE. We'll definitely recommend your company to others and I'm sure we'll be back in touch if my daughter needs other art projects professionally printed. Peter Turner
---
Courtesy: Adrian Chambers
---
Courtesy: Astrak Group Ltd.
---
Courtesy: Mark Flay
---
Hi Jo, thanks for your help with this, pleased to say the new wall is up and looks amazing. I made a short timelapse of us putting it up for our social media too if you are interested - James Bailey - Mad Dogs Television
---
We absolutely love our Wallpaper and we have already had amazing comments from the locals here. Many thanks and truly amazing wallpaper! Williams Estates - Rhuddlan
---
Courtesy: Rock Radio, Gibralter
Yes all received and installed perfectly...! Daniel Harrison, Rock Radio Launch Team
---
Bishopsgate Institute:
We are an independent, free-thinking organisation, home to a library, historical archives, talks, discussions and courses.
They've worked out really well and have achieve the aims of
(1) getting 'hidden' archive materials out and visible to encourage engagement and
(2) "people-ing" the corridors so the victorian marble corridors don't feel too cold and empty
... and we can do this without destroying the fabric of a listed building.
---
Design: Shiro Studio | Wallpaper and floor graphics: Redcliffe Imaging
Overlooking Lincoln's Inn Fields square in London, "The House of Peroni" is a temporary venue designed by Shiro Studio, featuring an outdoor pavilion and a series of immersive installations. The black & white bar on the first floor pays homage to the work of Italian graphic artist Franco Grignani, active in the sixties, year that Peroni Nastro Azzurro was established.
---
Courtesy: Tony Gee & Partners
---
Courtesy: Lakelovers - Keswick
It all looks very good and there have been lots of people asking about them. If you ever find yourself in Keswick please call in and say hi! Thanks for checking with the production team. Graham Wilkinson - Sales Manager – Keswick
---
Design: Create Interiors Design
---
Wallpaper when up, mostly on Friday night as I couldn't wait! Delighted with the results and the quality of the paper. It was actually easier to work with that I expected and there are no bubbles and we got it perfectly aligned (well almost and good enough for us). Dan Addison
---
Courtesy: Caroline Bowler - Masson Mills
---
Courtesy: Janet Barrett
---
Courtesy: UWE Bristol
---
Courtesy: Luca
---
Great service, very helpful staff and delighted with the finished product. We purchased a wall map, plenty of choice, and we also have them make a large photo into wall paper, both turned out looking perfect. - Graham Harrison
---
We were looking for a company that could print a large wall mural with image and company logo to put up in our office, and I came across Redcliffe Imaging during a Google search. Overall, they were fantastic to work with, and Jo was exceptionally helpful and patient throughout the order process. We're all delighted with the finished product and the mural was very easy to put up! - Holly
---
Design: Bespoke Wall Art Design | Courtesy: UNITE the Union
---
The Francis Frith Collection - Nostalgic Local Photos of Britain Printed as Wallpaper.
Courtesy: Smith and Bloom
---
The Francis Frith Collection - Nostalgic Local Photos of Britain Printed as Wallpaper.
Courtesy: Smith and Bloom
---
Lay of the land (and other such myths): Victoria Lucas | London Art Fair | Produced by Mark Devereux Projects
---
Courtesy: Cre8te Interiors
---
Bird wallpaper. Courtesy: Fred Ashmore. Design: Slice Studio